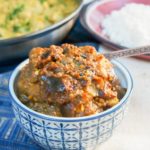 Brinjal pickle
Brinjal pickle makes a delicious accompaniment to any Indian meal, or else try it with other things too – I can imagine using it on top of cheese to perk up a sandwich, for example. It's juicy, filled with your favorite Indian flavors and a great way to use up some eggplant too, if you need another excuse.
Ingredients
400

g

aubergine

1/4

tsp

salt

1

tsp

mustard seeds

1

tsp

cumin

1/2

tsp

fenugreek

1/2

tsp

black pepper

1

tsp

chili powder

3

tbsp

vegetable or canola oil

4

cloves

garlic

crushed

1/2

tsp

turmeric

3

tbsp

apple cider vinegar

1

tbsp

brown sugar
Instructions
Cut the aubergine into 0.5 cm - 1 cm cubes.

Warm the oil in a skillet/frying pan and add the aubergine. Cook, stirring now and then until soft, around 10 minutes, adding the crushed garlic after around 5 mins. Don't worry if they stick now and then, just scrape off as best you can, but don't let them burn.

Once the eggplant is soft and almost cooked through, add the turmeric, stir so it coats everything and cook for another minute.

Add the spice mix, vinegar and sugar and mix well so the sugar dissolves. Cook another couple minutes, scraping anything that had stuck to the bottom, until the liquid has basically disappeared. Remove from heat and allow to cool before serving or storing in a jar in the fridge.