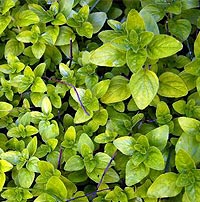 Description
Oregano, also called "wild marjoram," is a hardy perennial that has sprawling stems which can grow to 2 feet tall. This plant is much coarser than sweet marjoram and smells more like thyme. It has small pink or white flowers.
Culture
Oregano grows well in poor soil and can be propagated by seed or division. Thin plants 10 to 12 inches apart. Stimulate foliage by cutting back flowers. Replant when plants become woody in 3 to 4 years.
Harvesting
Use fresh leaves as needed. Preserve leaves by drying.
Use
Oregano leaves are used extensively as a flavouring on pizza. Sprinkle leaves over lamb or steak rubbed with lemon juice. Add to other Italian-type sauces.
[siblings]